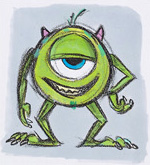 http://artludique.com/exposition2.html
Join your industry colleagues for a guided group visit to the exhibition,
Pixar: 25 Years of Animation
. This event is organized by the Europe & Middle East Division of the Themed Entertainment Association (
TEA
).
January 31, 2014 at 6:00 p.m.
Musée d'Art Ludique
34, quai d'Auster, 75013 Paris
The Museum is open until 10:00 p.m. on this day, therefore, no rush!
Representatives of two companies involved in the project; SFP & Associates (architects) and Harmatan (scenography) will lead the tour and be on hand to take questions.
Following our museum visit, we will move onto a local bar or cafe for an informal mixer.
IMPORTANT!
You will need to pay your own admission to the Museum.